Fridge Removal in Southwestern Pennsylvania
We offer full-service haul away and eco-friendly fridge recycling!
Instant Service Quote
Tell Our Team What You Want Gone!
724-882-4535
Refrigerator Haul Away in Your Area
If you're looking for fridge removal in Southwestern Pennsylvania, then look no further than Three Rivers Junk Removal! Whether you're in downtown Pittsburgh, Butler, Penn Hills, or another nearby community, you can turn to us! Since we're located in Natrona Heights, we'll be able to get to you quickly and have that old fridge or other junk out of your way in a flash!
Why Us for Fridge Removal?
Choose the expert team at Three Rivers Junk Removal because we're experienced, convenient, and affordable!
We have tons of experience in junk removal and appliance recycling. That means that you can count on us take all recyclables to the proper location for processing and you never have to haul a thing!
Scheduling is also easy, because we offer convenient appointments and quick service. Of course, none of that matters if you can't afford the bill. You'll be glad to know that we offer upfront quotes, and our rates are always fair! As an added bonus, you can rest easy knowing you've supported a local business and kept your money in your community.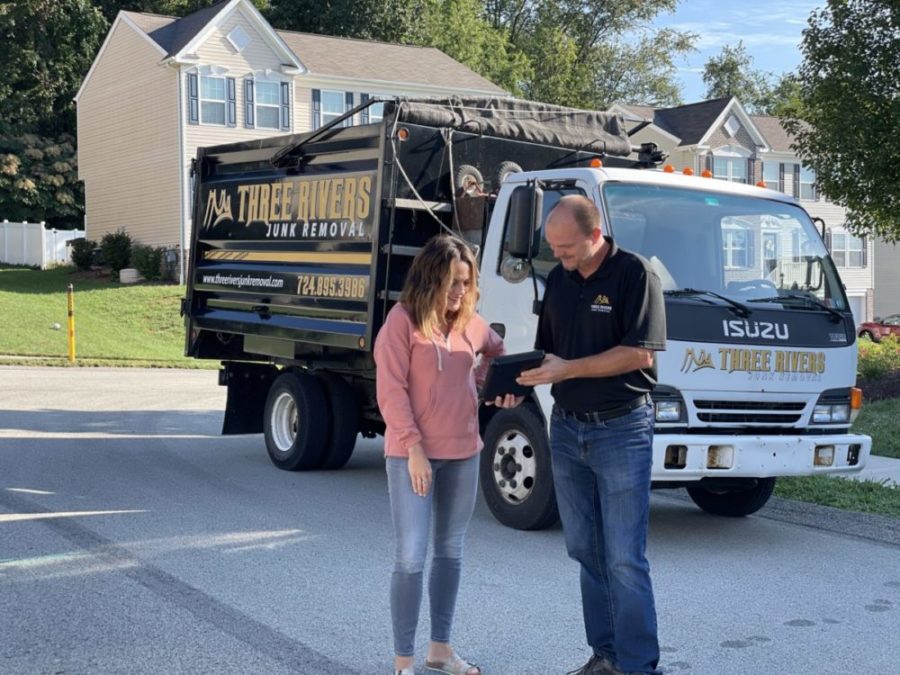 Our Fridge Removal Process
First, give us a call! You can reach us at 724-882-4535 or reserve your pickup window online with just a few clicks.
Then tell our junk removal pro about the refrigerator or other appliances that you need to get rid of.
Next, we'll set up an arrival time that works with your busy schedule.
When our team arrives, they will confirm pricing with a customized quote for the full cost of the job.
After we have moved your unwanted refrigerator out and loaded into our truck, then we'll be on our way.
Finally, our crew will make sure the appliance is recycled or properly disposed of at a local facility.
Commercial Refrigerator Removal in Southwestern Pennsylvania
Are you looking for help removing an old fridge from your restaurant, commercial kitchen, or business? Three Rivers Junk Removal does that, too! When you call us to get rid of a commercial fridge, we'll work with your timeline. If you need that old fridge out in a hurry, then we'll do our best to get to you the same day! Of course, if you have business hours to work around, then just let us know. Your satisfaction is our top priority.
When it's go time, our team will carefully remove the refrigerator from your property, taking care to not damage walls or doorways. Then we'll load the appliance into our junk truck. Before we go, we'll ask if there's anything else you need to toss. If everything looks good, then we'll get out of your way. The next time a co-worker or friend needs disposal or recycling help, you can say, "There's a great team offering fridge removal near me!"
About Us
We are a Veteran-owned, locally operated junk removal business located in Natrona Heights. As such, we bring an unmatched level of hustle, hard work, and integrity to everything we do.
When you need fridge removal in Southwestern Pennsylvania, you shouldn't have to wait around! With Three Rivers Junk Removal, you won't have to. We promise to get to you quickly and clear out in a hurry.
Our junk crew knows how to work hard and get the job done right. When it's time to work, we don't mess around! Of course, we are always upfront and honest about our time, our process, and our prices.
Call 724-882-4535 to speak directly with a member of our team. We'll get you fixed up and get that old fridge out of your way today!
What Our Customers Have to Say
Book Online Now
To Save $20
Book Online Now
To Save $20