Storage Unit Cleanouts
The Three Rivers Junk Removal team will cleanout storage units!
Instant Service Quote
Tell Our Team What You Want Gone!
724-882-4535
Full-Service Storage Unit
Junk Removal
The Three Rivers Junk Removal team makes storage unit cleanouts painless for you! That's because we do all the work!
Simply show us the unit and confirm the items that need to go. Then we'll take it from there! We'll have it cleaned out in no time, and you won't have to do a thing!
Why Hire Pros?
The professional junk removers at Three Rivers Junk Removal provide a level of unmatched service and convenience!
Fast. We will work with your schedule and have the storage unit cleaned out quickly!
Thorough. Our crew removes the big stuff, gathers loose items, and even sweeps up!
Stress-Free. You won't have to stress about removal, cleanup, or disposal.
Upfront Pricing
We make storage unit clean up affordable!
Custom Quote. One of our pros will assess the storage unit and give you a quote for the junk removal services required.
Comprehensive Pricing. What does the quote cover? Everything! It will cover labor, hauling, and any disposal fees.
No Hidden Fees. We don't ever sneak extra charges onto your bill, so the final amount will match our initial quote.
Call 724-882-4535 to speak with a team member about the cost of storage unit junk removal.
Storage Unit Cleanup Services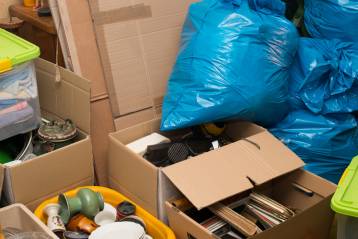 ITEMS WE TAKE
Weight Benches & Dumbbells
Decor & Mirrors
Couches & Recliners
Mattresses & Bed Frames
Boxed Junk
Refrigerators & Freezers
Clothing & Linens
Books & Records
And More!
How Storage Unit Cleanouts Work Junk Removal
On cleanout day, we'll remove all unwanted items from the unit and load them into our junk truck. Cleanup
We'll take the time to sweep out the unit. Then we'll haul everything away for disposal.
Our Service Areas
Three Rivers Junk Removal cleans out storage until in locations across Southwestern Pennsylvania!
If you've got the storage unit junk, we've got the truck!
REVIEWS
Book Online Now
To Save $20
Book Online Now
To Save $20
Local Junk Removal & Hauling Services