Swingset Removal in Natrona Heights, PA
Swingsets are not small, so if you want to remove one, you will likely need to do some disassembly. Alternatively, you could contact Three Rivers Junk Removal instead! We provide professional swingset removal in Natrona Heights, PA.
Instant Service Quote
Tell Our Team What You Want Gone!
724-882-4535
SWINGSET REMOVAL AND DISPOSAL
Kids in Natrona Heights and Harrison Township love going outside and playing on their swingset! Remember when you would swing when you were a child? The rush of cool air around you and the feeling of your momentum rapidly changing is a thrill. However, it's a thrill that wears off when you enter adulthood—and all kids grow up eventually. For these reasons, swingsets eventually outstay their welcome. This is why we provide swingset removal in Natrona Heights, PA.
If you have a swingset in your yard and you'd rather use that space for something else, let us know! At Three Rivers Junk Removal, we're happy to help out with all kinds of junk removal jobs. Swingset removal is no exception. We'll do what it takes to make your swingset disappear!
Why Our Swingset Hauling Service?
Getting rid of an old metal swingset is not an easy process. It's also a time-consuming process, so if you don't have an open schedule, then it might be best to contact professionals for help. And what better professionals are there than the crew at Three Rivers Junk Removal? We are experienced in both junk removal and demolition, making us a great choice for your swingset removal project. We have the tools we need to take the swingset apart, and we have the muscle we need to load the parts onto our truck!
We remove swingsets for all kinds of clients! Of course, many local residents have swingsets in their yards, and when they need help getting rid of them, they contact us. However, we also remove swingsets from school playgrounds, church playgrounds, and public parks. We are willing to go just about anywhere in our community if it means making you happy. We can even be there as soon as today or tomorrow if you'd like!
Need a price estimate for your swingset removal? Want to schedule an appointment? Then we invite you to contact us today. Here's how you can get started. For one, you can click Book Now to access our online contact form. Alternatively, you can speak to a member of our crew by calling 724-882-4535.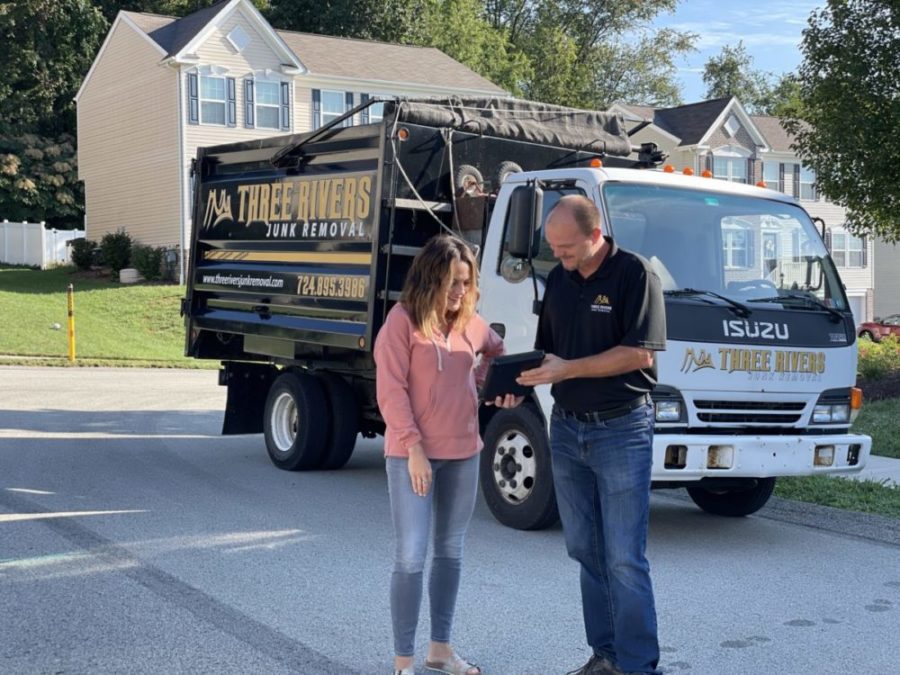 How Swing Set Removal Works
When we are on our way, we will give you a courtesy call. That way, you'll know to expect our imminent arrival. See you before too long!
Please let us take a look at the swingset. We'll determine what we'll need to take it apart, then provide you with an upfront service quote.
If you accept our asking price, we will leap right into the demolition process. It won't take us long to reduce the swingset into pieces.
Finally, we will need to take what's left of the swingset to a disposal site. We'll accept your payment and get right to it.
We Also Remove Other Kinds of Play Structures!
Do you need to remove more than just a swingset? Maybe you'd like us to remove an entire playground's worth of play equipment. Fortunately, we are more than willing to help with this project, as we have experience in removing many other playground items. Some of these include see-saws, jungle gyms, monkey bars, merry-go-rounds, and basketball poles. Whatever is in your playground, we are happy to take it off your hands!
One of the most extensive playground demolition projects is the removal of a wooden play structure. These playsets can be enormous, featuring tunnels, slides, ladders, and other wacky gizmos for the kids to enjoy. So when the kids grow up and stop enjoying it, call us, and we'll help you reclaim that space. We have saws, power tools, and sledgehammers, meaning no play structure will last long against our experienced demolition crew. Of course, we'll be sure to clean up any and all debris when we're done. That way, not even a splinter is left behind.
About Us
Three Rivers Junk Removal is a fully insured and trained junk removal and demolition company in your community! For a long time, people have come to us when they need help getting rid of unwanted stuff. Because of their patronage, we've enjoyed great success, and we give back to the community whenever possible. Enjoy our affordable prices and friendly service because we think you deserve the best we have to offer. We'll also prioritize eco-friendly disposal, too! For example, if you have pieces of playground equipment that are still in good condition, we will donate them instead of sending them to the dump.
What Our Customers Have to Say
Book Online Now
To Save $20
Book Online Now
To Save $20
Local Junk Removal & Hauling Services